DV, viennese version, 6 min. 54 sec.
MAK-Nite, Vienna, 2000.
z-movie line, Schikaneder, Vienna, 2000.
Museum-edsvik, Sollentuna, Sweden, 2001.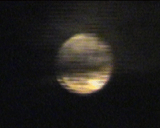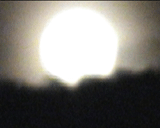 >>> movie [wmv] >>> 73,4 MB, 00:06:54
Driving in the full moon, the digital eye gazes into the night, capturing the silvery ball, dancing, trembling and rolling away. Racing in rotation, scanning the nightlight from the drunken, round giant. The format finally captured in the zoom, my eye glued to the view-finder, drinks the light of the travelling satellite. The longer, the more in trance, I shoot up the moon and the moonride continues full speed ahead, a work in progress.

credits
toni kleinlercher, video + soundmix
doris day, fly me to the moon
tunnel trance force vol.7, dj wag, man on the moon