DV, 4 min. 56 sec.
Nikolaj Copenhagen Contemporary Art Center, 2002.
Haus am Waldsee, Berlin, Deutschland, 2002.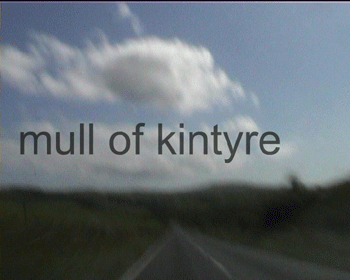 >>> movie [wmv] >>> 36,2 MB, 00:04:56
On a wild drive through the Mull of Kintyre searching continuously for cloud tips, for the far-off, for the unknown whitewashed in camouflage. Soon lost from sight, hardly a shadow, another long stretch of hills and sea, the notion of an usurper more distant and unlikely, the McCartney song stuck to the chassis, along the edge of the horizon.